Kev Brown and J Scienide Stray from the Pack
Posted by MIXTAPE MENAGE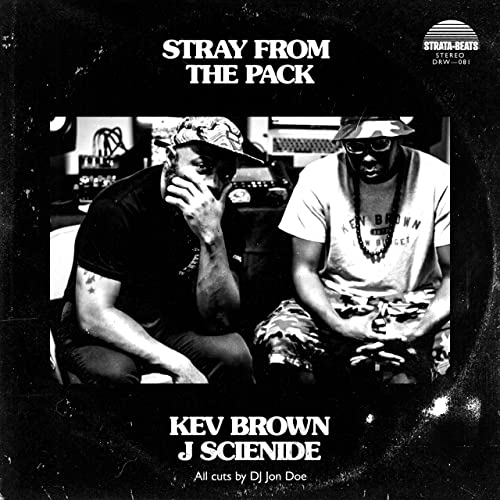 Kev Brown and J Scienide Stray from the Pack
Kev Brown and J Scienide's Stray from the Pack heralds the headnod concocting producer/MC duo of Kev Brown and J Scienide return after 2019's The Drum Machine Cassette.


One of the most amazing feats of this album is how it seems to give a feeling of nostalgia without being redundant. Sometimes the way Kev Brown rhymes is reminiscent of when Pete Rock would rhyme on Pete Rock and CL Smooth albums. Nothing particularly groundbreaking on this album but that doesn't mean that it shouldn't be appreciated. Truth be told I've already listened to this whole album 3 times today!

Very creative. Very soulful!

A lot of love, a lot of soul are what's needed to push things forward. One can really feel the joy of them producing this record, and that joy is contagious! This is a distinctly beautiful record ultimately. The wistful vocal samples on Cutlass Supreme accented by the cuts from DJ Jon Doe as the drums do a funky tip toeing 2 step on a Kev Brown production. And then that little loop at the end of Cutlass Supreme! Could you just imagine being in the studio or the bedroom and just having that feeling when you're making music and not being able to not smile or grin or something because you know damn well that those few seconds of that loop are absolutely BANANAS!!!
Lyrically speaking, this album is interesting. To hear Kev Brown's take on himself and his career on Cutlass Supreme
"I'm made my own planet/It took me 20 years/I built a foundation on a lot of beers…" and let's not forget J Scienide, his lyrics are cool but his delivery is what really makes him shine as an MC. To simply quote,via text, his line from The Set Up "If rhythm is a dancer we'll be f*ckin' by the morning" does nothing to communicate the level of skill or brilliance in his verbal execution.

Production is where this album shines. For example, the lightness and abandoned yet insistent feel of the piano sample of Leave it to the Pros (produced by J. Scienide) is a thing of immense beauty which is a reminder Kev Brown is a reminder that Kev Brown has spent many years honing his craft before since before the Brown Album and long before with and love of the craft permeates throughout his work and that love is a gift that's slides into your soul via soft attack piano samples.

Stray from the Pack is a lovingly crafted beautiful record that back packers and those missing the early 90's style lyrical and sample-driven sound era can get behind without feeling like participating in a record that exists purely as an antithesis to current trends but moreso stands to exist on its own terms and by its own standards which should be appreciated and admired by all who seek it.

RIYL: Head nodding, Head nods, Nodding of the head Collection 2019 Sale 70% Off Title for image