Adrian Younge presents: Angela Muñoz Introspection
Posted by MIXTAPE MENAGE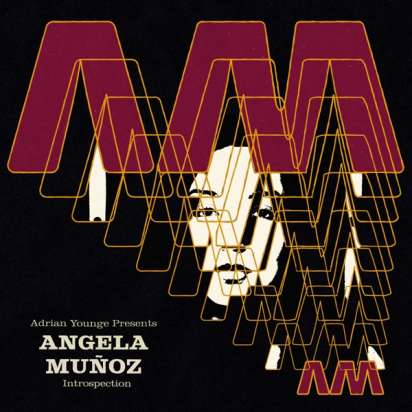 Adrian Younge presents: Angela Muñoz Introspection
The first thing that has to be noted is that this is an Adrian Younge album. With his signature sound that may sound vintage but simply uses more vintage recording techniques. It's obvious that Adrian Younge grew up in an age inhabited by hip hop as we know it. It's also obvious that he was influenced by Thom Bell and the Philadelphia sound which was evidenced by a previous release with William Hart (Poogie) of The Delfonics. That release may have showcased a familiar voice with a familiar sound, but obviously with a new man steering the way forward as it also lets us get a glimpse into a range of his vision forward.
This album with Angela Muñoz is another great exhibition  of Younge's but moreso Angela's artistic talents as she lives and plays around quite wonderfully in this musical world, frolicking between ranges of life, living and human emotion and the human experience. She has an incredibly sweet voice and soul. Younge knows to treat the matter delicately as he crafts this playground for the songstress to strut her stuff.
Tracks like "So Young" lends itself easily to the imaginative as the music sounds like it's observing Angela and her guitar in the midst of a moment of reflection as she sings "Sometimes I'm in a situation that I know I can't do anything about/And the only thing I can do is keep moving forward cause I know",  as the music begins surrounding her in comfort until it carries her and the guitar into the movement of stepping into her own future.
I can't wait to hear more from Angela Muñoz as she does have a unique voice, and while one can't wait to hear more from Adrian Younge it would be great to find out how she might sound with other producers. So in short, I am definitely buying this and I am also waiting for more releases from all parties involved in this beautiful record.
 RIYL: Flowers that don't irritate your sinuses on a warm(but not hot) sunny day, Adrian Younge
3.75 out of 5 Collection 2019 Sale 70% Off Title for image