A Tribe Called Quest We Got it From Here... Thank You for Your Service
Posted by MIXTAPE MENAGE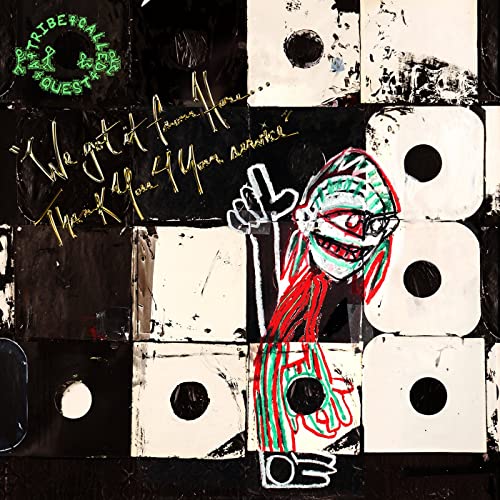 A Tribe Called Quest We Got it From Here... Thank You for Your Service
"We gotta get it together forever, We gotta get it together for brothers, We gotta get it together for sisters, We gotta get it together for others, Let's make something happen, to make something happen, to make something happen"
Easily one of the most quintessential groups of all time. Easily one of the most important music groups ever. Easily one of the dopest groups of all time. A Tribe Called Quest!!! (heard in the tone of the first echoes of Jarobi's narration on Tribe's first album People's Instinctive Travels in the Paths of Rhythm). 
This album is amazingly vivrant, soulful, heartfelt, bangin', etc. An unfortunate undercurrent though is that this is the last Tribe Album ever, due to the unfortunate passing of The Trini-Gladiator, Malik the Five Foot Freak, Dinomutt, The Funky Diabetic, Don Juice, Mutty Ranks, Phife Dawg, Phife Diggy, The Phifer. There will never ever be another. And seriously, Jarobi is in rare form on this album! Similar to how Phife gained legendary status when he really really showed up on Low End Theory.
It feels like a subconscious theme of this album is legacy and passing of the torch or rather, where the flame will continue to burn. The range of influence of Tribe is far and wide as can be seen by the impressive cast of new and old ranging from Elton John to Anderson .Paak. Friends, admirers and those that were inspired by Tribes work and legacy André 3000, Kendrick Lamar, Jack White, Kanye West, Talib Kweli, as well as Busta Rhymes and Consequence (both of whom at one time or another were informal members of the group). The guests feel less like contributors and more like comrades and devotees coming to pay homage. Tithes via talent. 
The overall feeling of We got it from Here… Thank You 4 Your Service is a reminder that the Native Tongue style can and still evolves while still having that Native cadence. Something about "Dis Generation" does make me feel like it's a refreshed version of "Check the Rhyme" albeit with a different subject matter. The track "Kids" is a reminder to sometimes embrace the wisdom of the elders, while "The Space Program" is a wonderful exercise in artistic and symbolic abstraction, the composition and the way all is presented implies something among the stars while the subject matter deals with a more mundane yet presently prevalent topic of the right to live for the underrepresented.
Soundclash sound system culture seemed to play a larger role in the sounds, selections and presentations which works quite well as a vessel of subtle influence for this album. I wonder about how "Black Spasmodic" was recorded though, as it feels like a testament to Phife even though he is the first verse on the song. "I take zero for granted, I honors my gift/ Champion pen game, plus I'm freestyle equipped/ You clowns be bum sauce, speak my name, it's curtains/ Hamdulillāh, my crew's back to workin'". 
It's easy to see why Q-Tip was so angry about the Grammy snub(Hell I'm angry right along with him!). This is honestly some of Tribes best work and although I can probably sum it up by saying that Tribe is for the culture and the Grammy's ain't. It would still be nice to get the recognition that we all know they more than deserve. Yet that far will never dim the light of the legendary legacy that is A Tribe Called Quest. Thank you for your service. To our life, to our lives, to the culture and being for the culture.
RIYL: Don't matter just listen to it and the rest of their catalog cause if you haven't you ain't living right. Collection 2019 Sale 70% Off Title for image